Use code "USAWINS" for $10 off Optishot Turfs!!!!




UPDATE AS OF 10/21/2021
I will be finishing orders through September 26 by October 24.
ALL orders have a 4-6 week estimated lead time but lead times are dropping.
INTERNATIONAL ORDERS: eBay is now back on for all countries!!! Please search for ArseneGolf or JagManJoe.
If you would like to cancel your order please send an email with "cancel order" as the subject.
If you would like to change your order please send an email with "change order" as the subject.
Orders go out as they are received.
Please do not "open a case" against me using paypal to "speed up" your shipping time. Your order will be canceled and refunded.
Emails and phone calls I'm trying to get to best I can, as they take away from production time. All products are handmade.
I will update this as much as possible
Sorry for any inconvenience.
Thank you all for your patience!
-Steve
What are the differences between TeeLine and Matzilla Turfs?
---
The differences between the TeeLine and Matzilla is that the TeeLine provides better protection due to it being more dense. It also feels more like a tightly mowed fairway. The Matzilla is approximately 1/4" taller and allows the club to go through the turf more freely creating a softer feeling that also helps alleviate pain that some golfers have in the wrist and back. It also uses 2 colors of nylon creating a better appearance. The downside with the Matzilla is that it can pull/tear as it is not as dense as the TeeLine. The pulling also makes the Matzilla not last as long. If you want the most protection while still feeling great go with the TeeLine. If you're more concerned with softer feel and looks go with the Matzilla. Both turfs hold a tee anywhere.
---
How do I install my Optishot turf?
---
Your turf will come with step by step instructions on how to install. I have also created a video as well.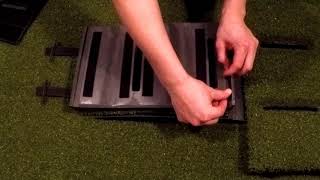 ---
What are JagManJoe Turfs?
---
All of our turfs are designed with a molded urethane base with a durometer rating that closely resembles the surface under the grass of a fairway creating the best feeling and most durable mats available. Ever wonder why fairways, tees and greens are plugged on a regular basis? In part, it helps keep the dirt from becoming too compacted. This provides a slightly more forgiving base under the grass when you take a divot and, yes, it is also done to promote the root growth of the grass. Areas away from the fairway often are described as being like hardpan. Joe explains our turfs in these videos.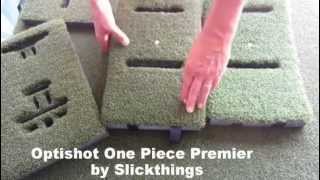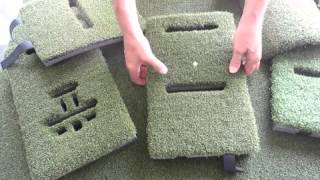 ---
---